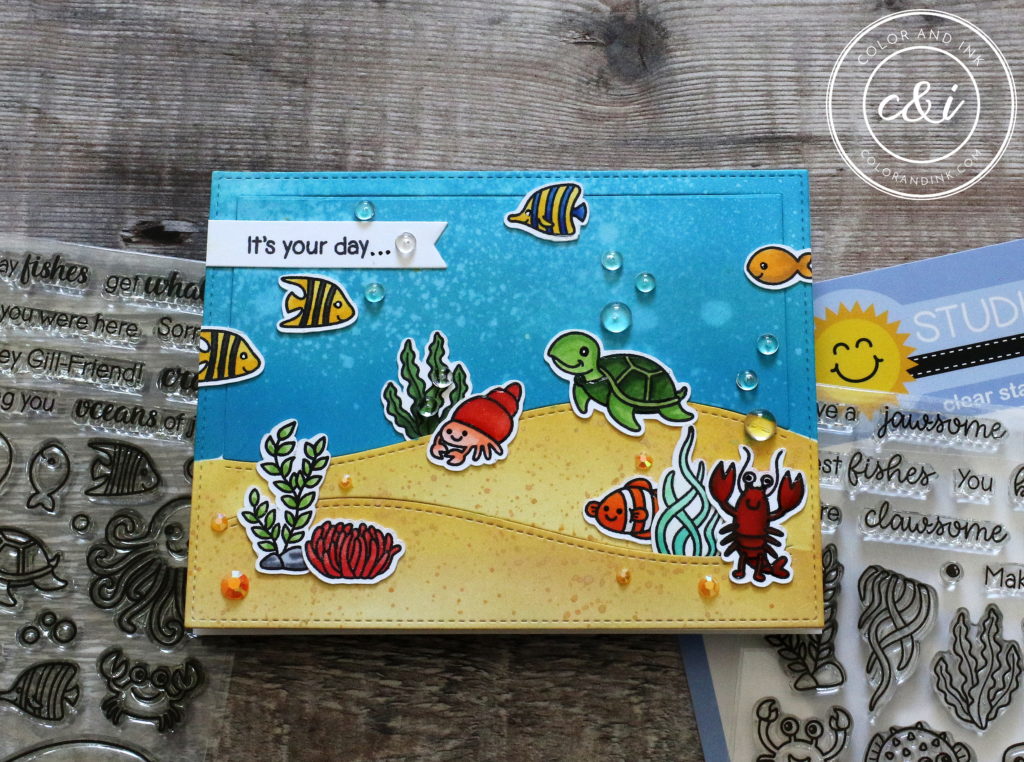 Hi Everyone,
I can't believe how fast time is going – it's almost September – crazy! Fall is my favorite time of year and also one of my favorite seasons for card making, the other being winter, so I'm excited to start sharing Fall themed cards soon! But before I do I want to share one more fun ocean card – this card makes me so happy!
You might remember not long ago I shared another card I created using images I colored earlier this summer using Sunny Studio's Best Fishes and Sunny Studio's Oceans of Joy stamp sets. Well, today I'm sharing the second card I created with those images.
Images and Sentiment
I stamped most of the images from Best Fishes and Oceans of Joy stamp sets onto Neenah Solar White, 110 lb, cardstock with Ink on 3's Blackout Detail Ink and then colored them with Copic markers. After die cutting the images I went over the critter's eyes with a black Sakura Gelly Roll pen and added a pupil to some of the larger critters using a white Sakura Gelly Roll pen.
For my sentiment, I combined two stamps from Sunny Studio's Best Fishes set and then added the ellipses with a black Sakura Gelly Roll pen. I plan to add a happy birthday sentiment to the inside of the card later.
Background
I wanted this card to depict a fun underwater scene so I cut a piece of Neenah Solar White, 110 lb, cardstock using Lawn Fawn's Stitched Hillside Backdrop: Landscape die. Once I had the background panel die cut I masked the top half of the panel and blended the bottom half with Scattered Straw and Fossilized Amber Distress Oxide Inks to create the ocean floor. I made sure to keep the Fossilized Amber towards the top of each sandy hill to create more depth. Once dried I splattered these same ink colors onto the sandy hills to give them more texture.
Next, I masked the bottom half of the card and blended Salty Ocean, Broken China, and Mermaid Lagoon Distress Oxide Inks onto the top half of the panel to create water. I wanted the water closest to the ocean floor to be the darkest so I made sure to blend this area heavily with Mermaid Lagoon. With the mask still in place, I sprayed the top half of the card with water to give it a fun texture.
Finishing Touches
To add a bit more interest to the card I covered the snail and turtle shells as well as the lobster with Glossy Accents. I also added some sparkle to the snail shell, the anemone, and the seagrass closest to the lobster using a Spectrum Noir Crystal Clear Sparkle pen. Next, I added some Pretty Pink Posh Merigold Jewels around the seafloor to add a bit more interest. Lastly, I used Pretty Pink Posh's 4mm Clear Droplets and 6mm Clear Droplets above some of the critters to create the illusion of water bubbles – I absolutely love how this turned out!
I hope you enjoyed the fun underwater card. Thanks for stopping by the blog!